a project from...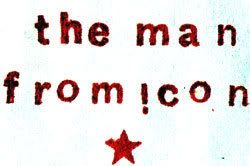 www.themanfromicon.com
minimalism on the streets!****************
"Anyone can make a monochrome. Most of us probably have made one at some time or another, although we wouldn't necessarily have recognised it. And we wouldn't necessarily need to have made one, as most of the time we are already surrounded by ready-made monochromes of various shapes and sizes. The world is full of unintended, sometimes accidental, often temporary, and mostly unnoticed monochromes…Every city is a museum of the inadvertent monochrome"
David Batchelor, In bed with the monochrome.
From an Aesthetic point of view, Philosophy, Art and the Senses.
Edited by Peter Osborne. Serpent's Tail, 2000
Send me a photo of found, ready-made monochrome from your city, town or village, along with details or where and when you found it plus any miscellaneous details you think are interesting. It could be an unused, painted over or papered over billboard or sign, side of a truck, fence round a construction site, side of a building, anything, any colour. The only rule is that you can't have made it yourself.
send real stuff to
the man from icon, flat 3, 56 brunswick road, hove, bn3 1dh, uk
send digital stuff to
info@themanfromicon.com
deadline: 30th june 2007 || download pdf of details here || documentation to all